Children's Apple Spin Ride
Big D's Ranch & Amusements offers discounts to Communities, Home Owner Associations, Churches, and Local Charities. The discount applies only to a carnival style set up at your location in Northern Virginia. We bring our carnival style ride set up to your HOA Common Area, Neighborhood Center, Neighborhood Park, Church Common Area, and Place of Work. Call us today for details.
(4 hour minimum)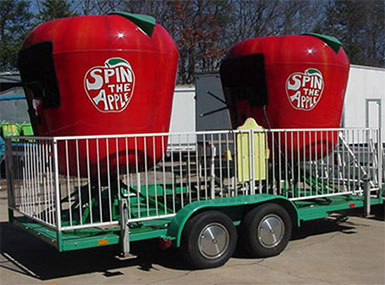 By the time the Apples begin to slow, the giggles and laughter are still building, eyes rolling and ears ringing. Each Apple can seat up to 5 adults or up to 8 kids. They are big, they are beautiful and man are they fast. You'll feel yourself being forced back in the seat by the "G's" created as you spin the ride yourself. The only power consumed is by the electric brakes!
Big D's Ranch & Amusements has additional amusements to make
your children's party a great fun.
Our Prices are Competitive*... Call Us Now!
*Prices subject to change, additional Fees may apply for Rush Hour Travel, Holiday Events,
Late Bookings, Evening Events and any events that require additional staffing.