Children's Whip Ride
Big D's Ranch & Amusements offers discounts to Communities, Home Owner Associations, Churches, and Local Charities. The discount applies only to a carnival style set up at your location in Northern Virginia. We bring our carnival style ride set up to your HOA Common Area, Neighborhood Center, Neighborhood Park, Church Common Area, and Place of Work. Call us today for details.
(2 hour minimum)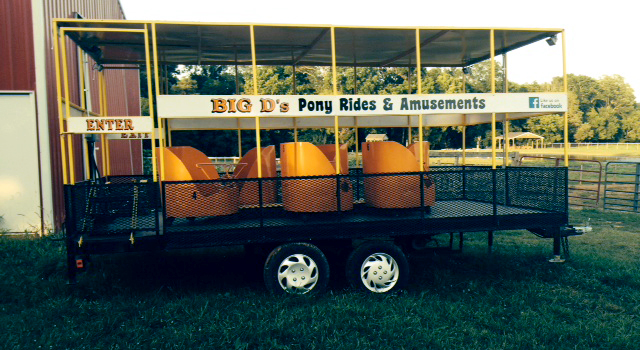 Big D's Ranch & Amusements has additional amusements to make
your children's party a great fun.
Our Prices are Competitive*... Call Us Now!
*Prices subject to change, additional Fees may apply for Rush Hour Travel, Holiday Events,
Late Bookings, Evening Events and any events that require additional staffing.
We have a children's version that looks exactly like the full size version. A children's roto-whip was also produced and is in a circular motion that whips the cars as it goes around. The ride consists of two circular wheel-like turn-table platforms on opposing sides of a rectangular base. Motors turn a cable that leads a number of 2–3 person seater cars that are attached, around a track. The Whip's name could lead many to believe it is an aggressive thrill ride. But most are actually very tame. The normal minimum rider height requirement is 46 inches tall unless with an adult at most parks, even though most whips are rarely aggressive rides.